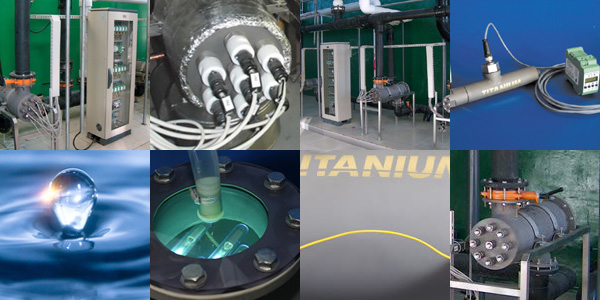 Titanium AOP model range
| Model | AOP1 | AOP5 | AOP10 | AOP20 | AOP50 | AOP100 | AOP400 |
| --- | --- | --- | --- | --- | --- | --- | --- |
| Throughput | | | | | | | |
| Maximum flow (l/s) | 0.30 | 1.40 | 2.80 | 5.5 | 13.9 | 27.7 | 111.1 |
| Maximum flow (m3/hr) | 1 | 5 | 10 | 20 | 50 | 100 | 400 |
| Water Pressure Drop (bar) | <0.1 | <0.1 | <0.1 | <0.1 | <0.1 | <0.1 | <0.1 |
| | | | | | | | |
| Electrical Specifications | | | | | | | |
| Voltage (v)* | 230 | 230 | 230 | 230 | 230 | 230 | 400 |
| Power Consumption (W) | 26 | 100 | 200 | 380 | 700 | 1300 | 4930 |
| Fuse Rating (amps) | 3 | 3 | 3 | 3 | 5 | 13 | 3 x 10 |
| | | | | | | | |
| Dimensions | | | | | | | |
| Diameter x length (mm) | 75×475 | 75×895 | 120×890 | 160×960 | 225×955 | 305×955 | 606×979 |
| Material | Titanium | Titanium | Titanium | Titanium | Titanium | Titanium | Titanium |
| Thread Connection (BSP) | DN15 | DN25 | DN50 | DN100 | DN125 | DN150 | DN300 |
| | | | | | | | |
| Supervised Features | | | | | | | |
| Continuous monitoring of UV radiation | | | | | | | |
| Control of Lamp life time | yes | yes | yes | yes | yes | yes | yes |
| Preheating of cathodes | yes | yes | yes | yes | yes | yes | yes |
| Information about alarms | yes | yes | yes | yes | yes | yes | yes |
| Soft start | yes | yes | yes | yes | yes | yes | yes |
| Measurement UV intensity | yes | yes | yes | yes | yes | yes | yes |
| Remote monitoring of system | yes | yes | yes | yes | yes | yes | yes |
| Measurement of water temperature in the reactor | | | | | | | |
| Solenoid drain valve water temperature control | | | | | | | |
*110V units available on request
The Titanium AOP is made up of a small number of components and has no moving parts. This makes it reliable, quick and easy to install.
It is easy to configure the Titanium AOP to meet purification needs, water flows and available space. The range includes 7 models that may be installed either vertically or horizontally and have the capability to treat flows from 0.1 litre /second up to 111 litres / second. For higher flow situations units may be fitted and used in parallel.
The Titanium AOP's control unit includes an alarm function, which can be connected to a Building Management System (BMS) for example, to indicate when a lamp requires changing.
In waterborne pipe systems there is a possibility that the piping will degrade, giving rise to many types of internal surface damage, anomalies, corrosion and, where design changes have occurred, potentially dangerous so called 'dead legs' or 'dead ends'.
The environment in a piping system, irrespective of piping material, may thus be such that Legionella and other micro-organisms are present, and, as a result, there is a possibility that Legionella and other micro-organisms may continue to exist in the system even after installation and operation of Titanium AOP.
Given the possibilities for Legionella and other micro-organisms to continue to exist in any waterborne system, BrightWater Environmental Ltd do not accept any liability whatsoever for damages caused by the existence of Legionella and other micro-organisms in waterborne systems where Titanium AOP is installed.